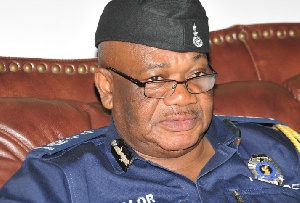 Ghana's police chief has said if it gets to the crunch, nothing and nobody can stop him from blocking social media sites on Election Day if that is what it would take to safeguard the peace and security in the country.
"I don't want to use some words, I think everybody has his opinion, everybody is entitled to his opinion, I'm talking as a security person, and I know where I'm coming from and I know what has happened. …The world is now a global village and we have to compare with best practices, so, I don't see what they are talking about. If it gets to the crunch… I think there is nothing that can stop anybody from going that way if it's necessary," Mr John Kudalor told Atiewin Mbillah of Class News on Friday May 27 in an exclusive interview.

Mr Kudalor's comment was in response to flaks hurled at him by critics over his proposal to black out social media during the November 7 general elections to ensure the process is peaceful.

The IGP said the use of social media by politicians, especially from the New Patriotic Party (NPP) and the National Democratic Congress (NDC), for election-related activities, has created tensions in the country, hence his proposal.

"At one stage, I said that if it becomes critical on the eve and also on the Election Day, we shall block all social media [sites] as other countries have done. We're thinking about it," John Kudalor told journalists at a press conference the day before.

Jonh Kudalor said that the police were following the example of other countries.
In February, the Ugandan government shut down social media in the country in what President Yoweri Museveni called a "security measure to avert lies".

He was eventually re-elected for a fifth term in office.

The IGP said the move would enable the police in Ghana to counter the actions of potential "troublemakers" who might compromise security operations during the elections.

"We are also thinking about the other alternative, that the police should be IT-compliant and get our own social media [account] to be able to stop these things on time," Mr Kudalor explained.

"We are looking at the variables and come D-Day, we'll come out with a decision," he added.
Following the IGP's proposal, Prof Audrey Gadzekpo of the School of Communication Studies at the University of Ghana warned that: "We have a strong social media-loving public and social movement that will protest, and I will be one of those included in the protests."

Apart from sparking street protests, Prof Gadzekpo is of the conviction that an action of the sort will dent the country's democratic image.

"Why are we following moves by countries whose democracy is in question? Why would they be our role model? I hope [the IGP] rethinks it," Prof Gadzekpo told Class FM's Ridwan Karim Dini Osman on Thursday May 26.

According to her, the move "is too much of a knee-jerk reaction to social media".

"What they will also now begin to encourage is the culture of going underground to communicate. It is better for them to allow citizens to communicate the way they want to communicate. Social media is here to stay just as how radio, television or any other platforms of communication exist," the academic added.
Prof Gadzekpo felt the consideration alone to ban social media was absurd, saying she "cannot imagine a situation in which they will say that they will ban radio, television or they will ban email because people will make irresponsible statements or exchange information in that way".

She questioned if the IGP will also go ahead to ban social media for anything that is of high concern in the country, arguing that such a move "is almost like censorship".

Prof Gadzekpo continued: "There is no evidence whatsoever that social media has been used in this instance to cause alarm. So, you cannot, in anticipation, ban social media because it could be used for wrong things, I do not think that is the [best] approach."

Also, pressure group Alliance for Accountable Governance has also kicked against any intentions to block social media on voting day. They are in good company with Ghana's biggest opposition party, NPP, which has accused the governing National Democratic Congress (NDC) of being behind the intention.