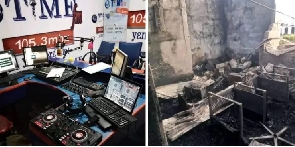 Several pieces of radio equipment worth millions of cedis were destroyed in a fire at Offinso's Time 105.3 FM.
The fire destroyed all electrical appliances, including consoles, in the station's studios on Friday, September 29, 2023.

According to available information, the fire began at approximately 8:30 p.m.

The fire destroyed various office spaces as well as large portions of the structure.
The cause of the fire is yet unknown.

The station has been temporarily closed while officials discuss the next course of action.