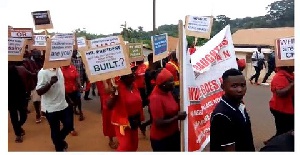 A group calling itself Sons and daughters of Okuapeman is protesting against the presence of national security operatives at the Okuapeman palace.
According to the group, the presence of national security operatives at the palace has stalled all customary rights at the palace while workers at the palace receive salary without working.

The group also accuses the security operatives of failing to grant access to people who would want to conduct research work on traditional and customary rights.

Leading member of Sons and Daughters of Okuapeman, Seth Anthony Marfo, says the continuous stay of the security personnel at the palace is threatening the traditional stability of the area.

Operatives of the national security and Ghana Police Service have taken over the Okuapeman palace following clashes between two factions.

They all claim to have the right to ascend the paramount stool.
The stool became vacant about two years ago following the passing of Oseadeayo Addo Dankwa 11, Paramount chief of Okuapeman.



The town has since recorded some violent attacks following the installation of rival chiefs a few months ago.

Leader of the group, Seth Anthony Marfo says the protest is to compel government and political authorities to move the security operatives from the palace, adding that their presence undermines the free movement of persons who have the right to man the palace.

Akuapem North municipal chief executive,Denis Aboagye who received a petition on behalf of the president promised to forward it to the approximate quarters for necessary action.