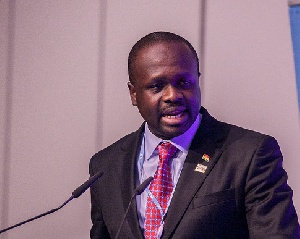 Former Minister for Communication, Dr. Edward Omane Boamah has denied media reports that he is the brain behind the picture of a customized registered Toyota Landcruiser v8 purportedly to be belonging to the Minister for Information, Mustapha Hamid.
He says those behind it must bow their heads in shame.

The Minister for Information, Mustapha Abdul-Hamid accused former Minister for Communications, Dr Edward Omane Boamah of allegedly spreading falsehood about him being the owner of a cross-country vehicle with a customized number plate[HAMID 1-18] which images have been making rounds in the social media to court disaffection for him.

Mustapha Hamid while addressing journalists in Wa on Thursday, said the reason for saying that was the fact the story was first carried by a website, 'Ghanapolitics.com', allegedly owned by the former Communications Minister.

In a facebook post, the former minister added that he does not swim in such kind of politics and that he is not in any way connected to that story.

"My attention has been drawn to a false claim attributed to my successor, the Honourable minister for Information Mustpha Hamid.
"For the avoidance of any doubt, I am not in anyway connected to the said story. I do not swim in this kind politics", he said.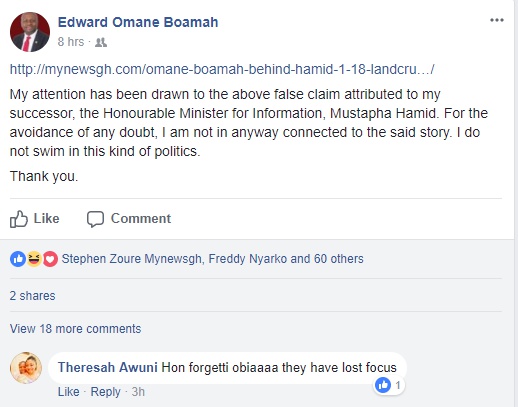 A Toyota landcruiser v8 with a customized number plate, HAMID 1-18 went viral on social media drawing the attention of the Information minister, Mustapha Hamid, who has also clearly come out to deny the claims.

Mr Abdul-Hamid has come out to deny owning that V8 and described the plate as fake.

"I do not own the said vehicle. I have never owned or used a white 4×4 wheel vehicle", Mustapha Abdul-Hamid said in a statement.