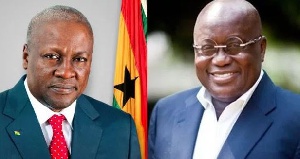 An online polls conducted by GHOne TV on twitter with 1,234 respondents has seen the National Democratic Congress (NDC) still trailing behind the New Patriotic Party (NPP) by more than 17 points ago.
The NDC only managed 34%, less than the 44.4% they got in 2016 under John Mahama.

The GHOne Poll simply asked respondents "If elections are held today, who would you vote for? GhToday.

Out of the four options of candidates from NPP, NDC, CPP and PNC; NPP had 51%, NDC 34%, PNC 3% and CPP 12%.

There has been a feeling of general hardship with rising cost of living under Akufo-Addo.
Candidate, Nana Addo Dankwa Akufo-Addo, then 72, was declared Ghana's 5th President of the Fourth Republic after an impressive performance in the 2016 presidential poll.

The three-time lucky NPP leader polled 5,716,026 to beat incumbent President John Mahama who had 4,713, 277 then Electoral Commission Chairperson, Charlotte Osei announced.

According to EC statistics, Nana Akufo-Addo recorded 53.85% of the total votes cast as against 44.40 by President Mahama.