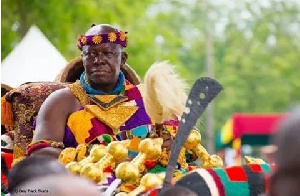 A Kumasi-based man of God and Founder of Christ Revival Baptist Church, Prophet Adu Boahene has said it would be very difficult for anyone to solve issues between the current Chairman of the New Patriotic Party (NPP) and his main contender Chairman Asare Bediako who are all aspiring for the Chairmanship position in the Ashanti Region.
This is not the first time the man of God is prophesying on issues around the party.

In a tape which MyNewsGH.com is in possession, the man of God was heard saying earlier warning that the incumbent, Bernard Antwi Boasiako affectionately called Chairman Wontumi would lose his seat should Mr. Asare Bsediako decide to context the race should not be swept under the carpet.

He continued in his prophecy that some leaders of the NPP would persuade Mr. Asare Bediako to pullout from the race because his emergence will threaten the chances of the incumbent but said it will not happen.

According to him, the former Chairman's shocking resignation from the race would bring divisions in the party in the Ashanti Region which would seek the party's loss in 2020 general elections.

Information circulating on social and mainstream media indicate that Mr. Asare Bediako is yet to resign though he has come out clearly stating he won't resign from the race.
Mr. Asare Bediako has admitted he was invited by the President of the Republic of Ghana who is now the leader of the NPP but denied the president asked him to resign for Wontumi to go unopposed.

Bishop Adu Boahen said the unfolding event indicates that his prophecies have come true adding that some party members have even called to threaten him on his prophecies.

According to him, Chairman Asare Bediako has refused to accept the fact that President Nana Addo Dankwa Akufo-Addo called him to resign because that alone will bring chaos to the party in the region which may result in its defeat in 2020.

When asked about the best solution to the settle the impasse Prophet Adu Boahene said the only person to settle such disputes is Otumfuo Osei Tutu II the King of Asante. "

Apart from him, it would be very difficult for the NPP to solve this problem about to happen". He prophesied.