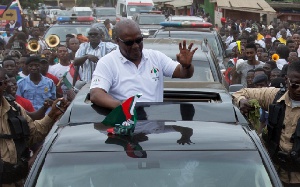 Mr Ohene Agyekum, Manager of the John Dramani Mahama 2020 campaign team, has said that the Ashanti Regional Chairman of the governing New Patriotic Party (NPP), Bernard Antwi Boasiako (Chairman Wontumi) can never prevent the former president from campaigning in Asanteman.
Some thugs believed to be working for Chairman Wontumi tried preventing Mr Mahama from meeting party delegates of the Manhyia South Constituency on Wednesday, 28 November 2018, as he wrapped up his three-day campaign tour.

The thugs were, however, chased out by Mr Mahama's private security operatives even before he arrived at the meeting ground.

Addressing the delegates after the incident, Mr Ohene Agyekum said it is only Asantehene Osei Tutu II that can prevent Mr Mahama from campaigning on Asante soil.

"On my way here, some men who claimed to be from the NPP had gathered and were planning to disrupt our meeting with the delegates. I didn't even know that this is Wontumi's Constituency. He said he will not allow John Mahama to campaign here, but we have come and conducted the campaigns. We are ending today and I want to send a message to Wontumi wherever he is that the only person in this region who can say he will not allow John Dramani Mahama to campaign here is Otumfuo", he stated.
Mr Agyekum said the Ashanti Region is not for the NPP, adding that it is evident that residents there are suffering due to the bad management of the economy.

He said the Ashanti Region has now come to realise that the NPP is not working in their interest, hence the massive support Mr Mahama received during his campaign tour.

For his part, former President Mahama commended the delegates, executives of the party and people of the Ashanti Region for the support they gave him during the tour.