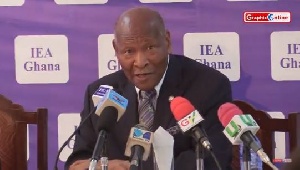 Member of the Council of State, Sam Okudzeto, has disagreed with the Accra High Court for overturning the suspension imposed by the General Legal Council (GLC) on private legal practitioner Francis-Xavier Sosu, for unethical behaviour.
The former president of the Ghana Bar Association (GBA) argued that it is only the Supreme Court that can overturn the suspension as its Justices were part of the Council that imposed the sanctions against Mr Sosu.

"Sometimes, some of them don't understand because a High court purporting to overturn a decision of a Disciplinary Committee forgetting that on the committee, you had three Supreme Court judges", Mr Okudzeto said, adding: "What makes the High Court judge think that [she] understands the legal issues more than the Supreme Court judges taking the decision?" he questioned.

The Human Rights Court 1, presided over by Her Ladyship Justice Gifty Agyei-Addo, set aside the orders of the GLC suspending Sosu from practicing as a lawyer for three years.

The court also, on Wednesday, 11 July 2018, set aside the one-year mentorship handed to Mr Sosu.

The GLC had described the charges of touting and personal advertisement as grave misconduct, but the court said council's verdict was not in accordance with the law.

It followed the hearing of an application for judicial review filed by Mr Sosu on 3 November 2017.
The Council, in 2017, slapped a three-year ban on Mr Sosu for advertising his services on Facebook and for allegedly charging excessive legal fees.

Dissatisfied with the GLC's decision, Mr Sosu went to court to quash the suspension.

However, Mr Okudzeto, a member of the GLC maintains that Mr Sosu violated the regulations of the profession by advertising himself.

He added that Mr Sosu offered to provide pro bono services yet charged a client by name Francis Agyare GHS50,000 after he had secured GHS200,000 for him as compensation for being jailed unlawfully for 14 years.

"If you say pro bono, why are you collecting money from the people? Pro bono means free," Sam Okudzeto said in an interview on Accra-based Joy FM on Thursday, 12 July 2018.