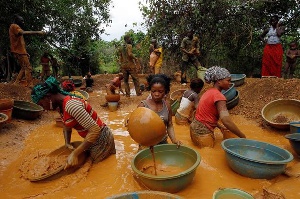 A member of the Economic Fighters League and National Youth Organizer has slammed President Akufo-Addo for complaining about the activities of illegal mining aka 'galamsey'.
According to him, the President who doubles as the Commander-In-Chief of the Ghana Armed Forces should be complaining about 'galamsey'.

In his view, it is only incompetence on and misplaced priorities that will lead a Commander-In-Chief of the Armed Forces to complain.

The Minister of Lands and Natural Resources, John Peter Amewu on Monday, held an emergency meeting with the Chinese Ambassador to Ghana, and the Mayor of China's Guangxi Zhuang Province, to discuss how they could collectively deal with the role of Chinese nationals in the illegal mining menace in Ghana.

The Minister's meeting with the Chinese delegation took place as five Chinese nationals are facing prosecution in Ghana for illegally mining for gold in River Ankobra at Bamianko Dawule in the Nzema East Municipality.

The Minister at the meeting said: "We are not saying Chinese governments or Chinese corporations should not come to Ghana.
We want to work with you; but we want you to work in an environment that is more suitable so that when you are enjoying the returns on your investments, you will know that you really toiled for it."

"Any person who will come to this country and not abide by that, we will not be prepared to work with that person. So we will be calling on you to reach out to your fellow Chinese from this particular community that they need to come together for us to resolve this problem."

"On our own, we have started some media campaigns over the last two-three weeks.

The public sympathy is so high that we believe seriously that any action that we take will be supported by all Ghanaians," he said.

"In every single community, there are chiefs, landowners, politicians… and so these actions are collaborative actions so we have sounded a clear warning, especially to those responsible whether politicians or chiefs. We will come after you."
"We are prepared to work with you and collaborate with you to address this problem. Help us address the issue of illicit mining… The people here are your people.

You speak the same language with them and they understand you better. So let us begin the fight," he said to the Chinese delegation.

"Nobody is going to lose at the end of this fight because as we keep on saying, a sustainable environment free of the pollution of water bodies, free of the destruction of our forest, free of the degradation of our land is a credit to the Chinese because a lot of Chinese investments are in Ghana."

However, the outspoken politician Ernesto Yeboah who took to his facebook page said: ''If not incompetence & misplaced priorities, how can you be the Commander in chief of the Armed forces & still complain about 'galamsey'.''