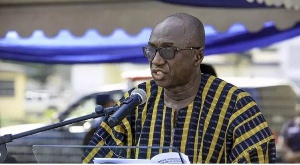 Minister for the Interior, Ambrose Dery, has lauded the introduction of Operation Calm Life indicating that it has resulted in minimising armed robberies and crime in the country.
According to him, the joint military and police operation is yielding positive results, adding that the programme will be intensified.

Mr Dery was answering a question on the floor of Parliament posed by MP for Sawla/Tuna/Kalba, Andrew Dari, on activities of armed robbers on the Sawla-Damango and Sawla-Wa highways.

"The police, in addition to putting in place security measures in the area, have also increased patrols on the highways in which Sawla-Damongo-Wa highways have been factored in the operational plan of the Ghana Police Service.
"Mr Speaker, Operation Calm Life, which is a joint military and police task force, has been intensified along the corridor in the fight against crime and armed robbery," he stated.

He said the police have stepped up intelligence gathering across the country and this is yielding enormous results in the area of arrests.

Mr Dery emphasised that security is a shared responsibility and encouraged the public to play their part.