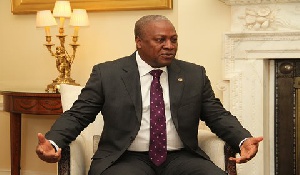 President John Mahama has expressed worry about the constant criticism hurled at the Electoral Commission (EC) of Ghana, indicating that such conduct by opposition parties is meant to "set the stage for disputing elections when they have taken place".
Mr Mahama, who said he was not enthused about the constant discrediting of the EC, which will preside over the December 7 polls, explained that the EC had been able to conduct six successful elections and wondered why critics kept doubting the election management body's capability to organise a free and fair election this year.

"They have the same personnel working there and I don't see the reason why people say the commission is biased, the commission is trying to rig the elections in favour of someone and all [those] kinds of things," he stated, during an interaction with various labour unions at the Flagstaff House on Tuesday, November 15.
The main opposition New Patriotic Party (NPP) as well as the Progressive People's Party (PPP) on different occasions have accused the EC of scheming to rig the elections in favour of the governing NDC.

But Mr Mahama insists that "our electoral process has some of the best safeguards for transparency in any electoral process in the world".