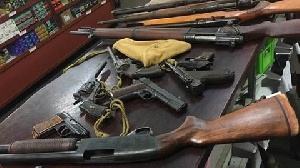 The Volta Regional Police Command has intercepted weapons and ammunition stockpiled by some individuals at Alavanyo ahead of the referendum in the area on Thursday December 27, 2018 for the creation of the proposed Oti Region.
"As a result of the Volta Regional Police Command's desire to ensure an incident-free referendum, intelligence was received to the effect of stockpiling of arms."

"The police, therefore, carried out an intelligence-led swoop on Saturday [December 22, 2018] at Alavanyo Dzogbedze and one sub-machine gun (SMG) rifle no. 63254 and one locally-manufactured short gun" were retrieved, according to the Volta Regional Commander, DCOP Mr Francis Doku.

The police also retrieved 61 pieces of AK 47 ammunition, eleven G3 assault rifles, 7 blank AK 47 ammunition.
The police said the items were retrieved from a room at Alavanyo Dzogbedze but the occupant of the room managed to run away.

The police indicated that efforts are underway to apprehend the individual or people behind the stockpiling of the weapons and ammunition.

The police further cautioned the public and "would-be perpetrators of any offensive act, to stop or face the wrath of the command".