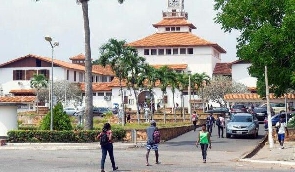 The University of Ghana has notified its preparedness to defend a new residential policy being challenged by some Commonwealth Hall students who have filed a lawsuit against the university.
The management said that the court's order compelling the University to change its accommodation policy decision would be contested by its lawyers.

In a press statement signed by the Registrar, the university argued that the order in which the injunction was obtained against the institution lacked the basis of inaccurate information. Therefore, management was ready to appeal the decision.

"Management of the University of Ghana has received a copy of an order for an injunction issued by the High Court, Commercial Division, Accra. This order was secured by eight (8) persons purporting to be residents of Commonwealth Hall. The order is valid for ten (10) days only as it was made without prior notice to the University. The order seeks to restrain the University from implementing a residential policy decision affecting continuing students of Commonwealth Hall.

"The University believes that the order was obtained on the basis of inaccurate information. Accordingly, the lawyers of the university have been instructed to vigorously defend the University in court," part of the statement read.
An Accra High Court recently placed an interlocutory injunction on the residential policy decision by the management of the University.

This was after some frustrated students of the Commonwealth Hall on Friday, January 6, 2023, filed a lawsuit against the university for directing residing students to seek accommodation outside the campus.

The university's administration issued an order intending to remove all continuing male students from the halls due to a violent confrontation that occurred on August 15, 2022, between Commonwealth and a rival hall.

AM/SARA