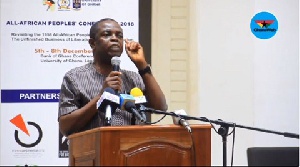 Throwing a party at the ministry of finance to mark Ghana's exiting from the IMF Program and the over-subscription of the Euro-bond, as well as the appreciation of the Cedi, has been described by the Managing Editor of the Insight Newspaper as the "weirdest ever" in the annals of the country's political history by any government.
According to him, he does not see the need for such a celebration when it is the government that decided to extend the IMF program for one year without promptings from anybody.

Speaking as a panel member on Radio Gold's Alhaji and Alhaji talk show, Kwesi Pratt was of the view that, the celebration is giving the impression that Ghana is being saved from the IMF; noting that the same day that the celebration was held, Ghanaian newspapers reported that Ghana has secured a loan of $185.2 million from the same IMF.

"You go to borrow, using the same things that Seth Terkper and Co used; we have had the same over-subscription under Mahama and Seth Terkper and there was no party to celebrate...and then we say that the Cedi has begun appreciating, so there is a party to celebrate; sometimes I think that some of our politicians take all of us for fools and that is what they do all the time", he fumed.

He stressed that "our politicians actually believe that those of us who queue up in the sun to vote for them, we must be big fools, otherwise, why will they behave in this manner?"
To him, it does not matter the Currency in which a country trades, that Cedi will continue to depreciate if there is a continuous dependent on others for things like toothpicks, tomatoes, clothes, shoes, spectacles, and everything.

He explained that the value of a Currency depends on a function of policy and correct implementation of that policy as well as a function of international trade; adding that so long as Ghana has signed foreign exchange retention agreement with mining companies which allows the mining companies to keep 98% of the value of the metals exported from the country in foreign banks, the Cedi will continue to depreciate.

"...these are the issues we ought to be looking at and not shifting from Cedi to other Currencies; it does not solve any problem because that is not the fundamental problem," Mr Pratt said.

He insisted that the fundamental problem of the country which is making the Cedi continue to depreciate is that the country is not producing enough as Ghana has become an import-dependent economy; adding "all those things which are throwing about as solutions, they actually don't work because they betray a fundamental lack of understanding of our economy".