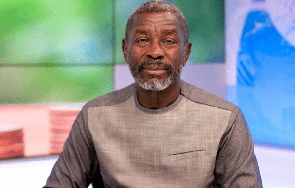 February 17, 2023 news headlines included variants of stories from an interview granted to the national broadcaster by businessman Prince Kofi Amoabeng, formerly of defunct UT Bank.
There was also unpalatable news this morning from the Bawku crisis with three deaths reported.

There is an update on when last time Christian Atsu was sighted before the February 6 earthquake even as he remains missing and also news of the death of a former police chief.

Find below GhanaWeb's biggest stories for today

Former Chief Executive Officer of the defunct UT Bank, Prince Kofi Amoabeng has spoken about what led to the collapse of his bank; the UT Banks, some 6 years after its collapse.

The UT Bank was one of many affected during the New Patriotic Party (NPP)'s banking sector cleanup, leading to the collapse of the bank.
1. Ken Ofori-Atta didn't collapse UT Bank, Ghanaians did - Kofi Amoabeng explains

Former Inspector General of Police under the Jerry John Rawlings regime, Peter Nanfuri has passed on, a graphiconline report has said.

The former IGP reportedly died on February 16, 2023 at age 81. He was the Director of the Bureau of National Investigation (BNI) in 1986 till he was appointed as IGP in 1996.

2. Former IGP passes on

Executive Director of the Crime Check Foundation, Ibrahim Oppong Kwarteng has claimed that he has been briefed that Christian Atsu left his apartment before the earthquake struck.
3. CCTV footage showed Atsu in the parking lot of his building before earthquake - Reports

President Nana Addo Dankwa Akufo-Addo got what could best be described as a Valentine's Day gift when the presidential jet touched down on February 14, 2023 in Accra.

The Falcon 900-EX Presidential Jet, had been in France for the past six-months undergoing a full refurbishment.

4. Refurbished presidential jet returns, equipped for long haul flights - Report

Some drivers transporting pepper and tomatoes from Bawku to Accra have reportedly been shot dead, a Luvnews report has said.
According to a Luvnews report sighted on myjoyonline, the deceased drivers, numbering 3, were travelling on Tuesday, February 14, 2023, with the goods together with some others when some unknown gunmen opened fire on the cargo trucks at a spot 20 kilometers from the town.

5. 3 cargo drivers transporting tomatoes, pepper from Bawku to Accra shot


SARA