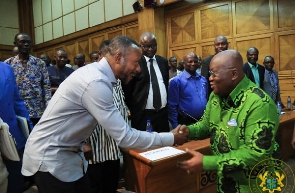 Founder and leader of Glorious Word Power Miracles Church International, Bishop Isaac Owusu Bempah has explained the content of a viral audio clip that was circulated on social media last week.
In an address over the weekend, he told his congregation that the voice were comments made about two years ago in the aftermath of his brush with the law, which situation led to his arrest and arraignment before court.

He, however, disowned one portion of the audio where someone spoke about plotting with the president Nana Addo Dankwa Akufo-Addo to commit murder at Tema; beside that portion he stated that he unequivocally claimed every other statement on the tape.

"The voice that I went with Nana Addo to commit murder is not my voice, but the voice about the IGP Dampare is mine. After our arrest, I made some comments about the treatment I received. I am not above the law and the law must deal with me when I am found guilty," he told the congregation.

He went on to recount details of the predicament that he went through during his arrest and the subsequent mistreatment he received at the hospital whiles under arrest.

"But you cannot take the law and abuse the person. That I be handcuffed when there is a drip on me. The handcuff is placed where the drip is, I have been cut by the handcuffs and I am bleeding.
"I am seeking answers and the officer is nonchalant aggravating my pain with the handcuffs. He says it is order from above.

"The car that came with eight armed and hooded people has not been addressed, at the time, I spoke out of pain and poured my heart out to whoever came to me, I did not understand why I had to be treated like an animal," he lamented.

He clarified that even though he had problems with the IGP and other key political actors, all of the differences had been resolved and he was currently at peace with each of them.

Listen to him below:


Watch the latest episode of Everyday People on GhanaWeb TV below:





You can also watch this feature on climate change and its impact on fish and sea life:




Share your news stories and ideas with GhanaWeb




To advertise with GhanaWeb


SARA