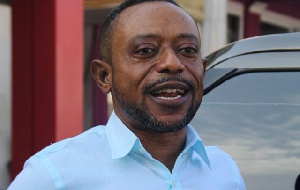 Founder of Glorious Word Power Ministry, Isaac Owusu Bempah has finally spoken on predictions from a colleague prophet pointing to an imminent accident in November that will end the life of the popular man of God.
A man of God by name Prophet Jerry Noels, of the Faith Missions Church in a viral audio prophesied that Rev. Owusu Bempah is going to die through a gory car accident with his mortal remains mangling beyond recognition.

The prophet who said he heard clearly from God on the incident said the accident was destined to occur because Rev. Owusu Bempah had chosen to wrongfully lead people astray through his 'fake' prophetic ministry. He added that tragedy could only be averted if Rev. Owusu Bempah quits running his church.

Speaking on the issue however on Adom FM's 'Burning Issues' Wednesday, Rev. Owusu Bempah said the prophecy was a mere 'opinion' from the said man of God, one whose authenticity will be made proven or otherwise disproven when the projected month comes to pass and he is still alive.

"The prophet who predicted my death, it is his belief, he predicted November, so we all wait to see".

He also on the side, cautioned 'doom sayers' predicting the death and ill-health of President Akufo-Addo to be wary that they don't ironically 'meet their maker' in his stead.

He stressed on the need for all Ghanaians to support the first gentleman with prayers rather than consistently concern themselves with his age and how it will affect his performance. No one, he says, owns the right to predict Akufo-Addo's health status based on his age and determine its effects on his performance or abilities as far as leading the country is concerned.


Persons who however insist on 'speaking ill-wishes for Akufo-Addo according to him, may surprisingly meet their deaths while the 'elderly man' remains healthy and goes about his business.

"Akufo-Addo will contest in 2020, it is God who gives life and protection, no one can determine someone's life span based on their age except God"

"People predicting Akufo-Addo's death, if they are not careful, will meet their death and the man will still be alive and well. It's not a curse. Have you not seen a child die before an elderly person? We should rather be praying for good health and life for President Akufo-Addo so that he keeps helping Ghana develop because if he lives long, it will benefit the whole of Ghana, not just me".

"Akufo-Addo is very fit, both spiritually and physically", he maintained.