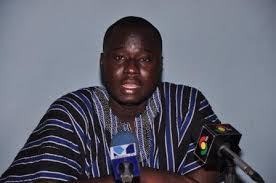 The General Secretary of the People's National Convention(PNC), Atik Mohammed has said the party looks sick because of the attitude of some individuals who are scheming to see the downfall of the current leadership.
"How do you expect the party to move forward when there are these distractions by these individuals,…instead of them to complement our efforts. They should get serious and stop these distractions. We are not going to be distracted," Atik Mohammed said in reaction to the pressure mounted on him and the National Chairman, Bernard Mornah to resign their positions.

In an interview with Accra-based Citi FM Tuesday, Atik said there hasn't been much investment in the PNC for it to be packaged as an attractive commodity to sell to entities or other political parties judging the state of the party now.

According to him, the allegations by the individuals calling for their removal are baseless and must be disregarded.

He feels there should rather be the need for the persons who are fighting against them not to dissipate their efforts in kicking against their administration, but to come together and work to make the PNC "electorable and formidable."

Some angry supporters of the People's National Convention(PNC) have given the National Chairman of the party, Bernard Mornah and the General Secretary, Atik Mohammed a two week ultimatum to vacate their positions or face their wrath.
According to them, the downfall of the party can be attributed to the bad leadership of the two executives, accusing the chairman and the General secretary of openly showing their support for the two major political parties-NPP,NDC to the detriment of their own party.

The angry supporters Tuesday besieged the headquarters of the PNC chanting war songs and carried placards with inscriptions such as Atik Mohammed leave our party, Atik stop selling the party, Arrogant General Secretary enough is enough, Dr Linman's soul is crying among others.

A former PNC parliamentary aspirant for Ayawaso North, Mohammed Abdul Gyanlo who led the supporters to protest the deeds of the two executives said the party will resist the plans hatched by Atik and Mornah to mortgage the party to the NDC.

"We asking them to resign now for us to see the way forward. Looking at these crop of leaders, even before congress at Wa some of us saw their intention and decided to go to court. We are where we are because of their greed. They personally came to power in order to amass wealth and we decided to face them. They took cars from various individuals like Ibrahim Mahama, about four cars which have not been branded. So those individuals are the ones killing the party," Gyanlo told the media Tuesday on the sidelines of the protest held at the party's head quarters.