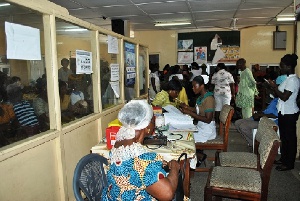 The Progressive People's Party (PPP), in the event that it is voted into power in the December 2016 presidential polls, will educate citizens on how to avoid preventable diseases, the treatment of which takes a chunk of the more than GHS1billion claims made by service providers on the country's National Health Insurance Scheme (NHIS) annually.
The assurance was given by PPP flag bearer Dr Papa Kwesi Nduom during the 2016 GBC/NCCE 2016 Presidential Debate held at the Banquet Hall, State House on Wednesday November 30.

Touching on how to improve the scheme begun by the Kufuor administration, the politician and businessman said in addition to favouring the "use of a single identification system", which would improve the "efficiency of knowing" which persons could be entitled to healthcare under the scheme and which persons are abusing it, his party had set its sights on tackling preventable ailments to reduce the "load" on the NHIS.

"The part that the Progressive People's Party is a lot more interested in and what I would like to implement as the next president is making sure that we put prevention at the heart of our healthcare system," said Dr Nduom, who is making a third stab at the presidency, having previously contested in 2008 and 2012.
He said his team had researched on what often ailed Ghanaians and had found out that it was mostly "preventable diseases" including cholera, malaria, monococcal meningitis, and HIV/AIDS.

"So we have a programme we want to put in place to ensure that you have proper environmental cleanliness, you have proper environments all over the country, and we have adequate provisions made so that our people are educated that they learn prevention, so that they don't wait until the problem becomes huge and then they go and overburden the system, which then causes the financial difficulty that from time to time the NHIS is challenged by," said Dr Nduom.

"And so we must reduce that load, that overload, and it's through prevention and getting rid of preventable diseases."