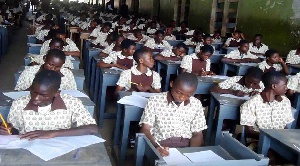 Presidential candidate of the Progressive People's Party (PPP,) Dr. Papa Kwesi Nduom, says a PPP government under his watch will scrape off the Basic Education Certificate Examination (BECE) system which serves as an avenue for admission into Senior High Schools (SHS).
He made this observation when he addressed a mini-rally over the weekend at Matsekope in the Sege constituency in the Greater Accra Region, ahead of the December 7 polls.

On why he will abolish the BECE, Dr. Nduom explained that the BECE makes thousands of students who are unable to pass liabilities to society as they become uneducated and unskillful on the labour market.

According to him, for PPP to fulfil its Free Compulsory Universal Basic Education (FCUBE) promise, it was imperative that the BECE is cancelled so as to allow students move through to SHS without any examinations.

"If our children fail today, they go home. Then it ends there. We don't want that. Their movement should be progressive. So, every child will be put through school through to SHS and technical school levels," he assured.

The PPP leader added that no child of school-going age under a PPP administration will be sent home for school fees, books as "my government will build complete school compounds with stationary depots, playgrounds, libraries, laboratories and accommodation for staff.
"This is far better than Akufo-Addo's free SHS promise."

"…PPP won't waste nor give monies away. There will be enough money to ensure that every child goes to school without parents paying anything. I see lots of children right behind me. They have bright future but that can only be realised with the introduction of free and compulsory education," Dr. Nduom added.

He could not understand why the area should be underdeveloped when the people there have been voting for the ruling government since 1992.

"Make history by voting for the PPP and you'll enjoy for four years," he urged.

The PPP flag-bearer used the occasion to introduce the party's parliamentary candidate for the area, Inusah Mortey, to the people and further urged them to vote for him as well.
Dr. Nduom and his team later in the evening made a whistle stop at Asutuari at Shai Osudoku constituency also in the Greater Accra Region where he promised them a new sugar factory and a rice mill.

"I have done it in Worawora therefore, it will not be too difficult for me to do it here," he said.

He added that a new polyclinic, market, bank and a library will also be sited in the area.

Dr. Nduom also introduced the party's candidate for the area, Emmanuel Martey Tetteh, to the people and called on them to vote for him and the party's parliamentary candidate.