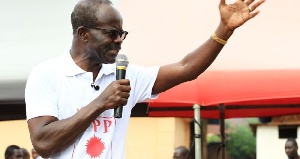 Ghana does not need the International Monetary Fund (IMF) for economic success and a Progressive People's Party (PPP) administration will cause a turnaround in the country's economy without the assistance of such multinational institutions, the flag bearer of the party, Dr Papa Kwesi Nduom, has assured.
Dr Nduom, who was answering a question posed to him during an interaction with the leadership and members of the Trades Union Congress (TUC) on Wednesday, October 2, maintained that Ghana did not need the Bretton Woods institutions, especially the IMF, to thrive.

He noted: "We do not need anybody from anywhere to come and tell us what to do as a sovereign nation. Ghanaians want the easy way out, hence always running to the waiting arms of these multinational institutions anytime there is difficulty.

"What we know must be done and a PPP administration will do it without having someone to tell us."

In this regard, he promised that a PPP government under his watch would not succumb to the whims and caprices of the Bretton Woods institutions no matter the situation.

For instance, he cited the examples of China and Korea and how these countries rejected the Bretton Woods institutions.

However, he said through some sacrifices and a dint of hard work made by those countries today they are better off.
"See where China and Korea are? This is the kind of decisions we will opt for in order to build our economy," he underscored.

The three-time presidential candidate has assured the leadership and members of the TUC of his party's commitment to job creation when voted into power to govern this country.

He said his "party, [if voted into power], will create jobs for the teeming unemployed youth scattered across the country".

According to him, the only way for the country to turn its fortunes around would be not to rely on empty promises like some other political parties are doing.

"We are talking from what we have done in the various sectors of the economy in some communities across Ghana, which we know and believe it will work for the whole country," he said.

The PPP 2016 flag bearer noted that about 53 per cent of Ghanaians were involved in agriculture, though that was where poverty was endemic.
"A PPP-led government will work hard to eradicate all preventable diseases like malaria to increase productivity in all sectors," he promised.

The Secretary General of TUC, Dr Anthony Yaw Baah, on his part thanked Dr Nduom for making time to share with the union his party's vision, policies, and programmes.

He indicated that the TUC was not involved in politics but rather worked with governments, and "for that matter we are ready to work with any government".

Dr Baah, however, wished the PPP flag bearer and the party well in their campaign for the presidency.