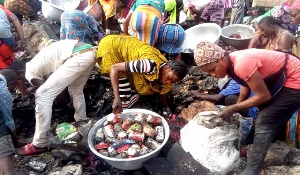 There is a mad rush for slightly charred products from the provision shops that got ravaged by fire within the PZ Building at Adum, Kumasi, in the Ashanti Region.
Eleven provision shops were razed on Sunday at about 1:30 am.

The dawn inferno destroyed merchandise worth thousands of Ghana cedis.

Despite the loss by the owners of the shops, scores of residents thronged to the scene to salvage whatever they could for themselves.

Mothers with babies on their backs were seen shuffling through the crowd with scores of other women in a mad rush for the goodies which include bags of rice, tin tomatoes, soap, sardine, among others.
Some of them intend reselling the salvaged items while others said they will use them personally.