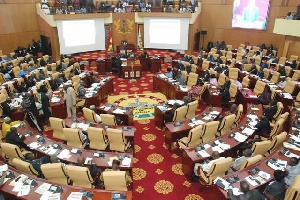 Parliament adjourned early yesterday after it learnt about the death of the former minority leader, J.H. Mensah to enable Members of Parliament commiserate with the family of the deceased who passed away yesterday at the age of 89.
The former minority leader represented the people of Sunyani East on the ticket of the New Patriotic Party (NPP) from 1997-2015 and was made the minority leader from 1997-2001.

Before the MPs' departure to the residence of the former minority leader, they paid a glowing tribute to the astute politician and statesman.

Leading the tribute, the majority leader and MP for Suame, Osei Kyei-Mensah-Bonsu who also entered parliament in 1997 and mostly understudied the then minority leader said the former minority leader was an intelligent politician who mentored a lot of young politicians.

According to him, he always enriched debate of the House with his in-depth knowledge.

"He was a brilliant communicator and quintessential performer," the majority leader said.


"He gave us good briefings during his time but the only thing I will regret about him is his failure to write his own memoir," Osei Kyei-Mensah-Bonsu said.

The minority leader, Haruna Iddrisu said the late former minority leader was an academic and very intelligent.



He said his papers that were presented in parliament were well-researched and had great depth of knowledge on economic matters.

According to the minority leader, Parliament has lost a father who was very humble and respectful.