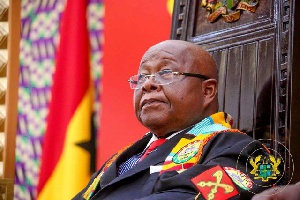 The Speaker of Parliament, Professor Aaron Mike Oquaye has given the strongest indication that the House will not lower its standards in the recruitment of research assistants.
The MP for Adaklu, Kwame Agbodza Governs first raised the issue and asked when research assistants were going to be employed for legislators.

But responding to the issue, Majority leaders, Osei Kyei Mensah Bonsu observed that, some members compromised on the requirement of a minimum of second degree for these assistants and this is not good for the legislators, he lamented.

Delivering a ruling on the floor of the house, Prof. Oquaye directed the clerks of the house to issue letters to the research assistants who meet the qualification threshold by next week Wednesday.
"This must be compatible with the overall interest of Parliament because we want to complement people…The work of these assistants will impact on the overall work of Parliament so please find a person who falls within the standard as clearly laid down.

It means therefore that Parliament as an institution is not going to compromise over that standard," the Speaker indicated.