General News Thu, 11 Oct 2018
Click to read all about coronavirus →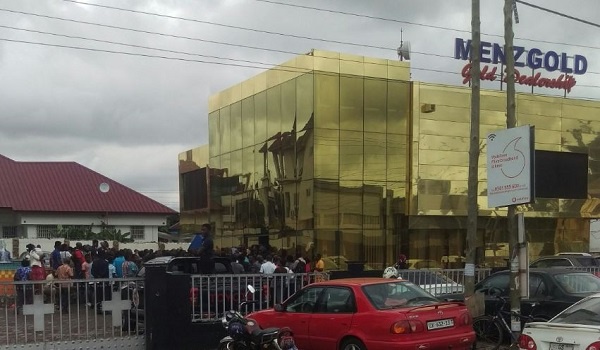 Rev. Joseph Appiah Odei, a pastor and client of Menzgold Ghana Limited, has sued the gold dealership company over its failure to pay him back his principal investment.
Also named as a defendant in the suit dated 5 October 2018, which was filed at the Accra High Court, is the CEO of Menzgold, Nana Appiah Mensah, popularly known as NAM1.

Rev. Odei avers in his suit that on 20 April 2018, he deposited 12 pounds of gold with a value of GH¢24,000.00 for a period of 12 months and paid a non-refundable commission of GH¢1,200.00 to Menzgold Ghana Limited.

However, he has not received the 10 per cent profit promised on his investment for some months and has been unable to also retrieve the GH¢24,000 he invested.

The man of God is, therefore, seeking a ruling from the court to order the defendants to pay him the accrued dividend for the months that has not been paid to him, as well as his principal.

Additionally, he is seeking compensation from the company for breach of contract and "general damages for fraudulent misrepresentation".


Menzgold stops paying extra values

Meanwhile, Menzgold Ghana Limited has said it has stopped the payment of extra values to its clients forthwith, due to restrictions and difficulties it is facing with its bankers, arising from the instructions and actions of certain government institutions.

The embattled company said knowing that the principal concerns of its customers is for the return of their primary value of gold traded with the company, it has agreed to pay and return to every customer the full value of gold traded, in 90 days, commencing from Tuesday, 9 October 2018.

This comes after Menzgold postponed payments of returns on investments made by clients on three different occasions.

In its latest statement, Menzgold said all payments will be made via direct transfer into the accounts of its customers to avoid the rush and overcrowding at its various branches as well as to save time and avoid causing its clients any inconvenience.

Menzgold is battling the Securities and Exchange Commission (SEC) over its operations. The company has dragged SEC and the Bank of Ghana to court to stay away from its business, but the state agencies insist Menzgold does not have the licence to conduct business in the manner they do by paying dividend to clients.


Angry clients demand 50% payment of principal in four weeks

On Wednesday 10 October, some of the aggrieved customers of Menzgold gave the gold-trading firm a four-week ultimatum to pay 50 per cent of their total principal or face their wrath.

According to the angry customers, they will not wait till the 90 days promised by Menzgold for their principal.

At a press conference in Accra, the leader of the disgruntled customers, Kenneth Nimo said the book runners of Menzgold acted irresponsibly when they dragged the Bank of Ghana (BoG) and the Securities Exchange Commission (SEC) to court on the matter.

They want managers of Menzgold to iron out their differences with the central bank and SEC.
Mr Nimo said: "We encourage every client of Menzgold to join our ranks, as a united front is the only way to ensure fruitful closure to our concerns. Menzgold has since the 12 of September relinquished on its obligation towards its customers.

"We wish to state that in spite of the many challenges of the company with regulators in the past month, we have remained calm and confident in their ability to effectively engage with regulators and bring closure to ensure the revival of their operations.

"However, Menzgold, instead of utilising this sterling opportunity provided by SEC and BoG to regularise the activities, has resulted to the law court seeking perpetual injunction against any interference in their operations. We state categorically that that smacks of irresponsibility and insensitivity to the plight of its clients who have stood by them in these hard times".

According to the angry customers, "In addition to relinquishing its obligation to regularise its operations", Menzgold "has also dislodged its responsibility to its clients and resulted to impulsion, ridiculous, hardly coherent directives on its powerless clients.

"They have unilaterally scrapped the payment of dividends...

"We wish to employ this medium to reiterate that clients of Menzgold will not be taken for granted; we will commit our energy to the just cause of retrieving the hard-earned investment with Menzgold.
"We encourage Menzgold to engage the two regulatory bodies in a healthy non-combative way in its own interest, as such is the surest way to [ending] the current impasse to ensure confidence in their operations.

"However, should Menzgold continue on it path to war with the said agencies, we don't have a problem with that; however, if it does so as a corporate body, it cannot hold its clients hostage should they wish to opt out of the scheme.

"We demand that Menzgold kick into action with immediate effect to pay matured investment and terminations if its operations have been dislodged and its clients can expect no extra value. We do not subscribe to the prolong period of 90 days stated in Menzgold's latest communication, as the company has not adhered to such guidelines in the past period.

"We are even more concerned about the time line strategy, as the company in the past few days rebranded its official vehicles, laid off staff, and is likely to vacate their offices in the coming weeks. We recognise the difficulty Menzgold faces should they attempt to pay all customers at a go.

The aggrieved Menzgold clients say they are giving the company a four-week window within which they expected the firm "to pay 50 per cent of gold traded to all customers and pay the rest of that amount until the 90 days are due."


Send your news stories to and via WhatsApp on +233 55 2699 625.