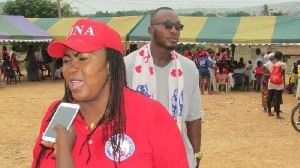 The MP for Weija-Gbawe Tina Mensah has said there is nothing wrong in paying delegates to vote for a particular candidate in Ghana.
According to her, although doling out money to delegates could influence votes, the practice is akin to the Ghanaian custom of hospitality.

Some candidates at the just ended conference of the ruling New Patriotic Party (NPP), where regional executives were elected, were accused of inducing delegates with money for their votes.

Agents of candidates were spotted at the grounds, especially in the Greater Accra region sharing money to delegates to vote for their preferred candidates.

Ms Mensah, who participated in the exercise at the Greater Accra conference, stressed splashing cash on delegates at such events is normal.

"There is no election without money, especially in Ghana there is no election without money," the deputy Minister of Health told the media when confronted with the development.

She added: "At least you have to give the delegates something – pocket money. You give them something to remember you for. I believe it is not a big deal."
Ms Mensah emphasized "it is not to influence," asking: "Why is it that they take a lot of things but vote for one person? They know who is competent. They take a lot of things but at the end of the day it goes to one person. Normally, it doesn't go to the person who paid the higher price. The money influences but not always."

Use Up/Down Arrow keys to increase or decrease volume.

For her, paying delegates at conference grounds is equivalent to paying homage to visitors who come to visit at home.

"I won't say it's monetization. When you come to my house I'll offer you water and if I have food I'll give you… it's something that we normally do. The delegates are busy people so at least give them something to remember you for," Ms Mensah stated.