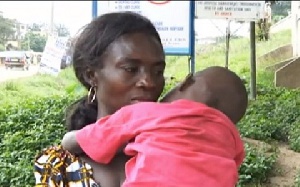 A feminist group, PepperDemMinistries, has offered to assist the four-year old girl who was allegedly defiled at Assin Dadientem in the Central Region and her family with medical and psychological support.
The group has also called on parents and power brokers in the society to use their positions as custodians for good and raise their voices to condemn the defilement of the minor.

The four-year old, currently receiving treatment at the St Francis Xavier Hospital, is reportedly unable to walk as a result of the incident.

The perpetrator is on the run after the chief declared him innocent because the village deity said so, an allegation the chief has denied.
But PepperDemMinistries urged the police, Department of Social Welfare, Judiciary and civil society organisations to ensure that the culprit "receives the severest of punishments for his crime, and the four year old survivor and her family get the necessary support to see her through these trying times."

Meanwhile, the Inspector General of Police (IGP), David Asante Apeatu, has issued a directive to the Central Regional Police Command to take over investigations into the case and "any person found culpable of wrongdoing, including police officers, would be dealt with according to law".