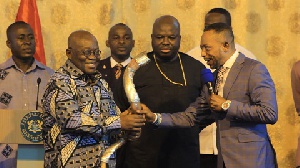 Founder of Glorious Word Power Ministry, Isaac Owusu Bempah has in yet another one of his 'releases', cautioned 'doom sayers' predicting the death and ill-health of President Akufo-Addo to be wary that they don't ironically 'meet their maker' in his stead.
Speaking on Adom FM's 'Burning Issues' Wednesday Evening, Rev. Owusu Bempah stressed on the need for all Ghanaians to support the First Gentleman with prayers rather than consistently concern themselves with his age and how it will affect his performance.

No one, he says, owns the right to predict Akufo-Addo's health status based on his age and determine its effects on his performance or abilities as far as leading the country is concerned.

Persons who however insist on 'speaking ill-wishes for Akufo-Addo according to him, may surprisingly meet their deaths while the 'elderly man' remains healthy and goes about his business.

"Akufo-Addo will contest in 2020, it is God who gives life and protection, no one can determine someone's life span based on their age except God"

"People predicting Akufo-Addo's death, if they are not careful, will meet their death and the man will still be alive and well. It's not a curse. Have you not seen a child die before an elderly person? We should rather be praying for good health and life for President Akufo-Addo so that he keeps helping Ghana develop because if he lives long, it will benefit the whole of Ghana, not just me".
"Akufo-Addo is very fit, both spiritually and physically", he maintained.

The popular prophet noted that contrary to assertions that his prophecies are skewed towards the ruling government, he merely speaks as directed by God he said. President Akufo-Addo has always had 'good' predictions he said because of his good intentions towards developing the country.



"God is my witness. I love Ghana's leader Akufo-Addo genuinely because he possesses a good heart. All the prophecies I have made concerning him are from God. I cannot lie in God's name because one day after death, I know I will be judged accordingly. Everyone wants to go to heaven so why would I speak on something when God hasn't asked that I do?"

"God has put love in me for President Akufo-Addo because he knows his good intentions for the country……. If God sees the heart of someone and chooses the person to lead the country just like he chose David to lead Israel and he tells me and I relay that message, what wrong have I done?" he quizzed.