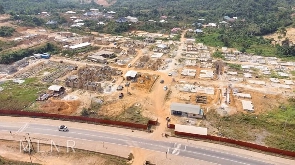 Work on the first-phase of reconstructing the Appiatse community in the Prestea-Huni Valley municipality of Western Region – following the tragic road accident involving mining explosives a year ago – is said to be 40 percent complete.
The current phase of reconstruction includes the construction of 124 housing units made up of two-to-seven-bedroom houses, a school block with sanitary facilities, and the construction of roads within the community.

Presently, 106 of the housing units and a six-unit classroom block are at different stages of completion – with some being roofed, according to Minister of Lands and Natural Resources, Samuel Abu Jinapor.

While assuring the commitment of government to reconstruct the community into a modern, green and sustainable one as a model for rural development, he is hopeful that persons affected by the incident will soon be moved from their temporary accommodation back to the community before end of year.

The minister, who disclosed this in Accra, meanwhile added that recommendations of the Health and Safety Committee – chaired by the Vice Chancellor of George Paa Grant University of Mines and Technology (UMat), Prof. Richard Amankwaah – established after the incident are also being implemented along with reforms.

Furthermore, he said a comprehensive review of the regulations on explosives, the Minerals and Mining (Explosives) Regulations, 2012 (L.I. 2177) has also been completed and will soon be presented to parliament.
It is hoped that these reforms will help further enhance the local mining industry and continue making it more attractive to investors, while ensuring the government vision of making Ghana a mining hub of Africa is realised.

With mining communities expected to see more development, especially given the direct impact of mining, it also emerged that the Minerals Development Fund (MDF) continues to provide financial resources from mineral royalties for the benefit of mining communities.

So far, some 21 Local Management Committees (LMCs) have been inaugurated across the country, with about 28 projects being undertaken by the LMCs.

The lands minister said in addition to this the Fund, through its Alternative Livelihood Programme, has distributed over 11,600,000 hybrid oil-palm seedlings to some 48,000 farmers across mining communities in the country.

"The Fund also continues to support research institutions in undertaking research into mining and building local capacity for the mining industry," he added.