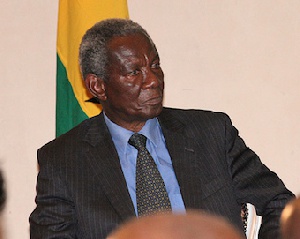 Wed, 16 Dec 2015 Source: peacefmonline
An elder of the opposition New Patriotic Party, Mr Kwame Pianim has counseled party members and leadership to do away with their pride and to throw their weight behind the flagbearer and get the campaign for 2016 ongoing.
Speaking to the media in Accra on Tuesday about the problems in the party, Mr Pianim said he was a "broken" man and "frustrated over the troubles" in the NPP which according to him, should be prepared to take over the affairs of state since in his view, the ruling NDC was showing it was incapable of solving the problems of the country.

According to him, some executives of the party have been suspended from their position, but that should not be the focus now because 2016 is just a stone throw away, so for the party to come back to power in 2016 ,which is the greatest priority of the party now, all other things should be called off.

He indicated that,"everybody should withdraw their cases from court, suspend whatever suspension has gone on, and together shift our focus only on the 2016 elections."

"...I am not saying suspended executives should resume their duties back but am saying every officer who is elected is part of the party."
He said the time for smoking a peace pipe was now and that would only happen if all sides in the party were able to tell themselves in the face that what we want is a political party and not unnecessary bickering."

"All the insults in the press, all the press statements, all that should cease. Let's all get together and work. We have a job to do, we are fighting an election."

He said, the party is not meant to create positions or post for people to occupy, but it is rather for them to provide alternatives policies to things happening in the country that needs to be looked at to better the lives of Ghanaians.
Source: peacefmonline