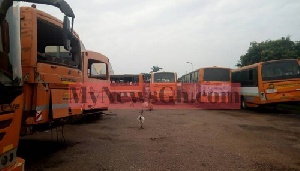 In a desperate move to cover up the lack of maintenance which has grounded hundreds of buses at various depots throughout the country, Metro Mass Transit Limited (MMTL) in response to MyNewsGh.com publication last week, claimed it has a robust Technical Department that foresees the maintenance and repairs of its fleet of buses in order to ensure their safety at all times.
The response which was by crafted one George Asante, Corporate Communications Manager failed to confirm or deny if indeed buses had been broken down as a result of minor faults and whether there were attempts to sell them off as scarps.

A senior staff of the company who we prefer to call Atta Kwame for purposes of this publication has disclosed to this portal that all is not well with the company and is calling for an urgent need revamp it before it collapses.
Our source corroborated investigations carried out by MyNewsGh.com that most of the buses are not on the road due to lack regular maintenance and that it is as a result of some managerial lapses.

According to him, Metro Mass buses can be parked for 3 weeks because of common brake pads and engine oil defects.