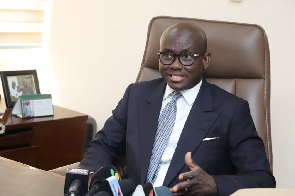 Point to the exact law you claimed Auditor-General breached – Dame challenged
A member of the Public Accounts Committee, Dr Clement Apaak has thrown salvos at the Attorney General and Minister of Justice Godfred Dame for suggesting that the Auditor General breached the constitution by releasing its report to the public before the consideration by the Committee.

The Minister has argued that Article 187(5) of the Constitution requires the Auditor-General to submit a report to Parliament that highlights any irregularities in the audited accounts.

He went on to say that Article 187(6) of the Constitution requires Parliament to debate the Auditor-report General's and if necessary and in the public interest, appoint a committee to deal with any issues that arise from it.

According to the Attorney General, the report of the Auditor-General may be considered final and relevant action may be taken only after satisfying the constitutional requirement of submitting the Auditor-report General to Parliament, the subsequent debate by Parliament on it, and the completion of work by the appropriate committee of Parliament.

But Dr Apaak says, there were no breaches as alluded to by the Minister.
The Builsa South MP noted that contrary to what the Minister said Article 187(5) mandates the Auditor General to submit to Parliament, the government's audited reports not less than six months after the end of the year which the "Auditor has done and fulfilled that provision of the constitution."

He indicated that the Auditor General has complied with his constitutional mandate and that there was no breach.

The MP is wondering why the Minister has suddenly taken an interest in the report by the Auditor General.

He has challenged the Minister to provide the law that requires the Auditor General to wait till parliament has debated the report before publishing the same.

"AG Godfred Dame suddenly concerned about the publication of Auditor-General Report? The Auditor General breached no law by publishing the report on COVID-19 expenditure, which law says the Auditor General has to wait for Parliament to deal with reports before publishing?"