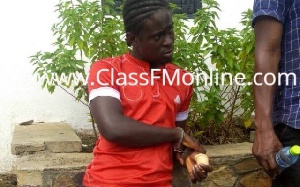 The police have begun investigations into the killing of an Old Vandal by a fellow V-mate on the University of Ghana campus on Saturday.
The officers have cordoned off the crime scene for assessment and collection of evidence.

They have also arrested the alleged killer (Man in red top, handcuffed).

Meanwhile, the office of the Old Vandal Association (OVA) has described the alleged killer as "intruder".

A statement signed by the president of OVA said: "I believe most of you have read or heard of the stabbing to death of an Old Vandal by a man who is believed to be an intruder.

"The incident happened at about 1830 hours GMT on Saturday, 9 December 2017, at the "Charging Grounds" in the Commonwealth Hall.

"It started as a mere argument between the two (the deceased and the killer) in the OVA bus on our way from Amrahia to campus (after attending the funeral of the late Vandal Lion).
"The argument became heated and the two had to be separated on several occasions by others. It went on and on. So, when we got to Atomic Junction, the driver was advised to stop and the two were thrown out of the bus. Others joined them.

"When they got to the Hall, they had not stopped. It was at this time that the killer allegedly grabbed the knife of the khebab seller and cut the victim several times with it. The victim bled profusely and was rushed to the Legon Hospital by the killer and some Vandals.

"The Doctors could not save his life. He was pronounced dead around 1900 hours GMT.

"On behalf of the Vandal Fraternity, I extend heaps of condolences to the family of the deceased Old Vandal. May the Almighty Father comfort them in these trying times.

"I urge all of us to remain calm. Let us continue to pray for our departed brother, Chief Tipsy.

"The leadership will be meeting in the next few hours. We shall keep you posted."