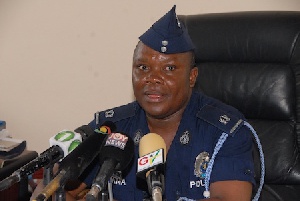 Mon, 27 Jun 2016 Source: Ghana Decides
Following intense pressure from the public, the Ghana Police Service has stated that it will not shutdown social media services in the country on election day.
The Inspector General of Police, John Kudalor had earlier suggested that a social media blackout on November 7 was being considered as a way to counter the activities of potential 'troublemakers' who might disrupt the election process using these platforms.

"At one stage I said that if it becomes critical on the eve and also on the election day, we shall block all social media as other countries have done. We're thinking about it," John Kudalor had said.

However, speaking at Blogging Ghana's Blog camp on Saturday, the Director of Communications at the Police Service, Cephas Arthur said the IGP made the comments on the spur of the moment and that there were no plans in place to ban social media on November 7.

"The IGP used the word alternatives but it looks as if nobody heard the other alternatives that he mentioned because nobody is discussing that. This was not part of his speech. It was a kind of off the top of his head answer.

"Let us not be alarmed. The IGP is not about to block social media on election day and we are going to have our social media," Cephas Arthur said.

The IGP's comments had generated widespread criticism from the general public who felt such an action would represent suppression of freedom of speech.
Several bodies including the Centre for Democratic Development (CDD), the Alliance for Accountable Governance (AFAG) BloggingGhana, and PenPlusBytes have criticised the Police Chief's words describing the idea as 'undemocratic.

The United Nations (UN) has also waded into the debate, stating that they would oppose any attempt to block social media ahead of the elections.

The special representative of the United Nations (UN) Secretary General for West Africa and the Sahel, Mohammed Ibn Chambas said: "I should say without hesitation that from a UN point of view, we would be obviously averse to any steps that will amount to restricting the democratic space, particularly any steps that will be taken to restrict the freedom of expression."

Cephas Arthur admitted that the Service's visibility in terms of the online space was negligible but added that steps had been taken to address the situation. "If you went to our site, you'll see some inactive social media outlets. We were present, somehow. With ICT advancements, the administration is putting measures in place to ensure that we are also strongly represented there," he added.

"It's something that we are working hard at and with the recent issue of abusing social media and having the likelihood of checking out information that could cause problems, the administration is doubling up and a lot is being done to permanently have a very strong presence on the social media front.

"So I can assure you that we are there, we are working hard and very soon you will see that we are strongly represented and it will be like that forever and we'll keep on improving and changing with changing times."
Source: Ghana Decides