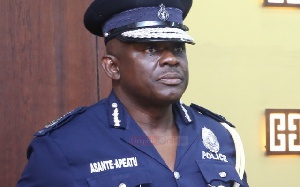 The Ghana Police Service has denied reports in the media suggesting that it has, as part of efforts to combat crime and increase public vigilance, launched a new campaign dubbed; 'see something, say something'.
The campaign which according to reports is a collaborative effort between BrassRing Media Network, Youth Crime Watch of Ghana, Ignitus Worldwide Inc. Gh and the Ghana Police Service was said to be aimed at directly engaging citizens in fighting crime and creating peaceful, lively and secured communities across the country.

Information regarding the campaign also suggested that active participation by the citizenry would be required and to do that, they must be observant enough to see, and be passionate and courageous enough to say what they see to the appropriate authorities.

A whatsapp number was also provided through which information on any suspected criminal or malicious actions could be reported.

"Citizens must not wait till the unfortunate happens before they report to the media. They must be proactive by reporting any suspicious activity to the Ghana Police Service and must describe adequately to the police what they saw, where it occurred when it occurred and a little description, if possible about the criminal actors.

"As part of the campaign, a whatsapp line 0244-330-796 has been created for all who may have any information about crime to share and the appropriate, quick action will be taken to protect life and property. For more information, like our page on facebook, If You See Something Say Something and on Twitter, @SeeSaycampaign If there is an emergency 1-9-1 will NOT fail when you call. Do call when it is necessary and imminent. This case tracking system will help," a statement signed by one Benjamin K. Tawiah who supposedly is Campaign Coordinator said.
But an official statement from the police service, dated June 1 and signed by Assistant Commissioner of Police, David Eklu dismissed the reports, indicating that no such campaign has been officially approved by the service and that they have not, under any circumstance collaborated with the above mentioned organisations for any such campaign as is being circulated.

They further stated that the move 'might be a private initiative by the coordinator' and as such has not received formal recognition by the police service.

Below is the full statement: