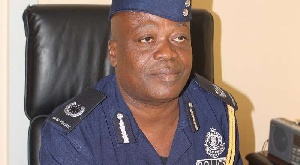 The Director of Public Affairs for the Ghana Police Service, ACP David Eklu, says the changes made to the command structure of the Service is a normal practice and not in response to the current robbery attacks.
The Inspector General of Police on 1st March 2018 made changes to the command structure of the Service which has been attributed to the upsurge of violent crime in the capital.

The Eastern Regional Police commander DCOP Simon Afeku is now the substantive Director General of Police Operations, which was previously headed by Dr. George Akuffo Dampare.

COP Christian Tetteh Yohunu has been moved from Director General in charge of Special Duties to Director General in Charge of Police Intelligence.
In an interview with Ekourba Gyasi on Atinka AM Drive Friday, ACP David Eklu explained that the timing of the changes in command positions in the service coincided with the spate of robbery attacks in the capital hence the erroneous assertion.

Commenting on calls for some particular officers like COP Kofi Boakye to be reassigned to fight the robbers, ACP David Eklu stated that the Police Service is not built on personalities.

"People may have their own views but the appointed persons are equally competent and have the right resources to work efficiently.