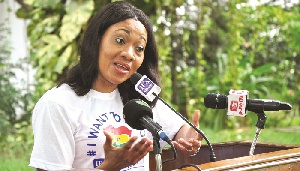 Chair of the Electoral Commission, Ghana (EC) Jean Mensa says a powerful woman should not be seen exhibiting her powers outwardly.
She says a powerful woman should let her power show from within.

"I don't believe a powerful woman should wear her power," she admonished.

Mrs Mensa was speaking on Today's Woman on TV3 on Saturday as the featured woman.

This is considered as a subtle jab at her predecessor, Charlotte Osei, who was seen by some as condescending prior to the 2016 polls.

She was removed by a petition from some staff of the Commission for some of the decisions she took.
Mrs Mensa expressed fulfillment in her professional journey so far, claiming she began from the bottom.

"You need to work your way to the top and you have to be patient."

According to her, women need to come to the understanding that life begins small especially in her case where her siblings were sweeping awards for subject course – in primary school – but she got one for 'Perseverance'.

She said she felt ashamed for such an award but later got to know how important it impacted her life.

"I can't say I was the brightest person," she indicated, insisting she is happy with where she has reached especially to contribute her quota to the development of the nation.