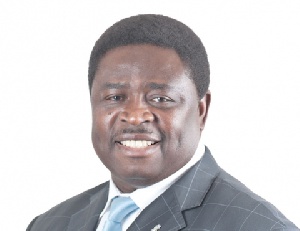 A former presidential candidate of the Convention People's Party (CPP), Dr Abu Sakara Foster, has suggested Ghana switch to a one-off presidential term of six years and do away with the current regime of four years renewable for another four.
According to the agronomist, governments tend to implement short-term goals which do not inure to the benefit of the country because of the four-year terms they have to govern. But a six-year term, in his opinion, is long enough to implement long-term goals, which Ghana needs to progress as a country.

"If the short term of four years is making us focus our minds on short term thinking, and short-term thinking is not what we need to solve these bigger problems, then we can say no, we want to change the period to six years. Even if you are so anxious to be in power once for six years, you move on for somebody to come," he told Moro Awudu on the Executive Breakfast Show (EBS) on Class91.3FM on Thursday January 19.

The 2012 presidential candidate noted: "Whenever you talk about this, politicians in power will say it's a good idea if they are out of power. They will say I can't stand opposition for that long. But we have to think about the bigger picture. So, now, the focus on governance for that period is determined by the length of the period.

"We are the same people who argue that we don't want a national development plan because we want our own manifestos and so on but if you have four-year terms and you don't want to follow a national development plan, how can you be chopping and changing. Even the same party with different administration can change.
That is a very diffuse use of resources and not consistent pursuing of a particular objective to get the desired result and don't forget we are a developing country and the hurdles that we need to overcome are big ones, so we can't get anywhere by jumping up and down.

"So, I will say we start from there. Wiser people than me have recommended this. Let us move to one term of six years in order to focus our governance for that period on medium to longer term and let us also be serious about this national development plan."

Just before leaving office in 2009, former president John Agyekum Kufuor also suggested an extension of the four-year presidential term by a year more. He argued: "If we have a five-year term, the third year would see to the maturing of policies and laws, the fourth year will see the good policies that would serve the nation. By the fifth year when people are canvassing for power, the good works can be judged by all".