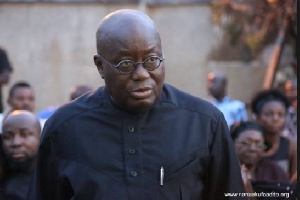 President Nana Addo Dankwa Akufo-Addo has paid a glowing tribute to the lateveteran Ghanaian actor Super OD, real name Asonaba Kwaku Darko.
The actor began his career in the 1970s and gained nationwide fame two decades later for his role in the popular Akan Drama television series, Osofo Dadzie.

Super OD who passed away on Tuesday in his hometown, Agona Swedru was taken ill last Saturday, according to son Simon Darko, after complaining of weakness. He has not been well for some time now.

President Nana Akufo-Addo took to Twitter to express their condolences.

He tweeted:
"A legend of our screens and a great entertainer, he brought so much joy to us over the years. I belong to the generation that will never forget "Osofo Dadzie". My deepest condolences to his family. Rest in perfect peace Super O.D., and God bless."


A legend of our screens and a great entertainer, he brought so much joy to us over the years. I belong to the generation that will never forget "Osofo Dadzie". My deepest condolences to his family. Rest in perfect peace Super O.D., and God bless.

— Nana Akufo-Addo (@NAkufoAddo) February 13, 2018