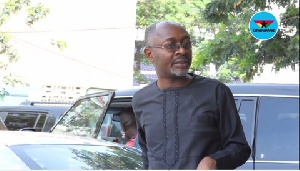 Embattled businessman, Alfred Agbesi Woyome has charged President Akufo- Addo to call his autocratic appointees to order.
Some Security operatives including armed soldiers and personnel from the National Security as well as officials from the Ghana Valuation Board on Tuesday, September 19 besieged the residence of the businessman to value his property for auction.

The officials had with them a warrant dated September 13, 2017. But Alfred Woyome indicated that the manner the process was carried out was undemocratic.

Government since 2014 has been pursuing the embattled businessman to refund the ¢51.2 million wrongfully paid to him through a judgment debt.

Speaking to 3FM's Mercydalyne Lokko on Tuesday, the businessman indicated he has not refused to pay the money but only exercised his right by seeking protection at the African Court on Human and People's Rights.
According to him, he stopped making payments for the refund of the money for the time being to exercise his constitutional right as a citizen by going back to court.

"I know the President to be a good lawyer, I know he understands all that is happening and he must, therefore, rein in his men so that the civilize and the right thing will be done".

He also accused Deputy Attorney General, Godfred Dame as the man perpetuating act trampling on his human right and therefore appealed to the Attorney General, Gloria Akufo to call him to order.

However, speaking on TV3's Morning Show, Newday on Wednesday, September 20, Deputy Attorney General, Joseph Dindiok Kempka said the presence of the armed military and police men was to protect officials of the Ghana Valuation Board.