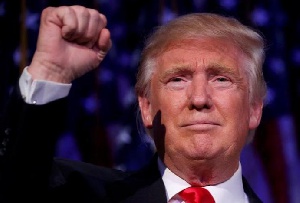 Deputy General Secretary of the New Patriotic Party Nana Obiri Boahen has described President John Dramani Mahama as the Donald Trump of Ghana.
He likened the recent utterances of the president to the US Republican Candidate he says is noted for engaging in insults, irresponsible and unreasonable comments.

"Mahama is the Donald Trump of modern Ghana because he insults, makes irresponsible and unreasonable comments", he said.

On the Ultimate Breakfast Show hosted by Lantam Papanko, the NPP Deputy Scribe wondered why the president will accuse the NPP of insulting conduct when members of his party are the worst offenders

President John Dramani Mahama during his address at the party's campaign launch in Cape Coast, accused the Presidential Candidate of the New Patriotic Party (NPP) of nursing divisions in his own party.
According to him, under the leadership of Nana Addo Dankwa Akufo-Addo, the NPP has won an "Olympic gold medal in insults" giving a leeway to the culture of verbal abuse.

"Developments in the largest opposition party threatens the country; the character of its leadership where people who are moderate [and] level headed have been cowed into silence because of fear of being victimized in the party should not be tolerated," he said.

But Nana Obiri Boahen indicates that the president himself is guilty of politics of insults having rewarded some persons who are known for verbally attacking his poonents.