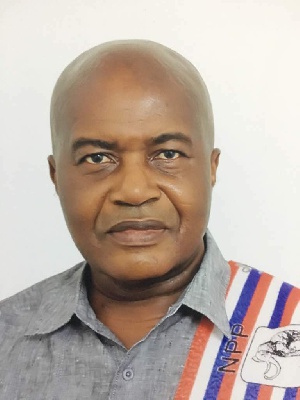 One of the leading candidates for the Chairmanship of the ruling New Patriotic Party, and three-time aspirant going for a forth, Mr Stephen Ayesu Ntim has said that President Akufo-Addo met him thrice to plead that he steps down for Alhaji Short, another contender.
Following a tape in which Mr Ntim was heard talking to delegates about the issue based on a question one of them asked him, he said he was forced to speak because of a wrong Afoko twist to the tape.

In a follow up interview monitored by MYNEWSGH.com on Asempa FM, Mr Stephen Ayesu Ntim said he was responding to questions from delegates who had asked him about speculations they have heard that he was being asked to step down for Alhaji Short.

He revealed on Asempa FM that it was indeed true and President Akufo-Addo met him three times on the issue to plead with him to step down and allow Alhaji Short go. He said on all occasions, he had also pleaded humbly with the president to allow him to go.

He however refused to divulge any other details of the reasons the President gave for asking him to step down.

He said he spoke about it only because at a meeting with delegates, someone asked him about it, something he suspected was a planted question to have him recorded as he he answered for him to say something bad that could be used against him, but he didn't.
"So I told them that it was true that the President has a preferred candidate and I have met with him (president) on three occasions on this issue, "he (Akufo-Addo) was appealing to me, and I was also appealing to him. it was not a threat." He said as MyNewGh.com monitored.

"I'm not going to lie about anything, and I'm not going to make up any concoctions…it is a gentleman kind of negotiation… what is the secret about this," he asked.

Mr Ntim said Alhaji Short, who is not known by many delegates was seeking to use him Ntim to give his failing campaign oxygen and was deliberately embarking on a campaign of needless confrontation and violence by destroying his (Ntim's) posters in areas such as Wa and some party of Accra at Achimota, Adenta, Madina etc and replacing with his; and also recording him for mischief purposes, pointing our that of all his three previous contests, the fourth was the most vicious as he had real gentlemen as opponents in the past.

He said compared to Alhaji Short, Freddy Blay was an outstanding gentleman and a worthy opponent who acts maturely, MyNewsGh.com noted.

Asked why President Akufo-Addo wants him to step down, Mr Ntim said he will not go public on that since it was an internal party matter and a conversation that he can't divulge.
I will not be a second Afoko to Nana Addo

What is the big deal about this, and people are saying "leaked tape, leaked tape", there is nothing to this, he said in reference to the tape in circulation.

"I have not insulted anyone on the tape. I also saw a caption on one of the TV stations that "I will not allow Akufo-Addo to treat me like Afoko, that is also a fallacy, I never said that, I am setting the records straight.

"What I said was that, I'm not going to be another Afoko whereby there was tension and all that and after winning the election, then there is tension between you and the president".

"Rather I said after winning the election, I will go to the president and pledge my support to him, I'm not going to fight my president, I'm not going to be another Afoko. I will go him with my silver and present it to him as my President. I'm ready for battle ahead", he clarified.