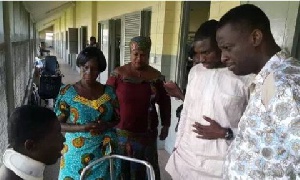 The youth wing of the New Patriotic Party (NPP) has paid a visit to the Effia Nkwanta Hospital to commiserate with the victims of last Tuesday's gas explosion.
The visit was led by the Deputy National Youth Organizer, Dominic Eduah.

Following preliminary investigating into the two gas explosions at Takoradi in the Western Region, it has been reported that the "negligence" of Ghana Household Utilities Manufacturing Company Limited (GHUMCO), a company owned and operated by Chinese nationals, is the primary cause of the explosion.

The explosion left over 100 persons suffering various degrees of injury. The owners of GHUMCO, Mr. Eduah said, should immediately take up the cost of treatment of those who have been injured as a result of the company's carelessness.

"I am shocked that a company that cause this amount of damage to the life of fellow human beings can turn around and pretend as if those people don't matter. This is unbelievable," Eduah said having interacted with the victims.
He added: "GHUMCO must immediately avail themselves to pay the medical bills of all the people that are in this hospital going through serious pain and receiving treatment because of their negligence."

Eduah warned companies that operate without Personal Protective Equipment (PPEs) to take a cue from this unfortunate gas explosion and provide their workers with the necessary gadgets to work in relative safety.

He also cautioned them to provide insurance benefits to their workers to cover unforeseen events that can be injurious to the workers.

Member of Parliament for Takoradi Kwabena Okyere Darko Mensah was also part of the team.