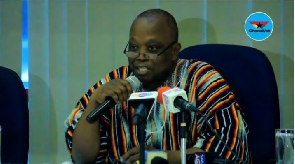 The Auditor General, Daniel Domelevo, has called for the privatization of prosecution of corruption cases in the country.
That, according to him, will make it "more distasteful" for an individual; be it in the public or private sector to be corrupt.

"With due apologies to the Attorney General, it is not to take anything at all from her office. But the truth of the matter is that corruption cases are so plenty. In fact, it is even difficult to prioritize them. And being the Attorney General who is supposed to prosecute murder cases, armed robbery etcetera, doing all that together with corruption becomes a problem," said Mr. Domelevo Thursday at a Multi-Stakeholder Business Integrity Forum by the Ghana Integrity Initiative (GII).

"So I am suggesting that we should look at how to privatize or commercialize the prosecution of corruption and corruption related cases. So that the grand ones which the Attorney General and the office of the Special Prosecutor will like to keep, they can keep them," he stated.
Revealing that the office of Attorney General is overwhelmed with "a lot of unattended" corruption cases, Mr. Domelevo said: "We can put a system in place for registration and recognition, monitoring and supervision such that it is done and done well," stressing "…if we decentralize it and there are multiple sources of which action can come, it makes it more distasteful to be corrupt."

Mr. Domelevo who in his 2016 report revealed that the overall financial impact of "weaknesses and irregularities" in the public amounted to GH¢2,165,542,375.14, also called for the amendment of the asset declaration law to allow the public access to the declared assets of public officials to enhance the fight against corruption.