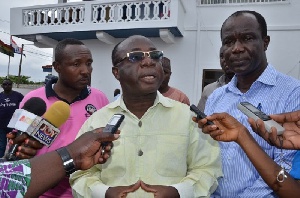 Pro-Afoko members of the main opposition New Patriotic Party are accusing first Vice-Chairman, Freddie Blay, of seeking to destroy the Danquah-Busia-Dombo family.
"He destroyed CPP and he is here to destroy our party," one of the leaders of the aggrieved constituency executives of the party who besieged the Asylum Down headquarters of the NPP on Thursday to demand Paul Afoko's reinstatement as chairman chanted at a press conference.

They accused Mr Blay, who is now the Acting Chairman, of being "stubborn" and importing his destructive tendencies into a party he joined after leaving the Convention People's Party.

The former MP for Ellembele joined the NPP in 2011. He became First Deputy Speaker with the support and endorsement of the NPP Majority in Parliament during the Kufuor administration.
While with the CPP, some leaders and members accused him of flirting with the Danquah-Busia-Dombo tradition to the detriment of his own party.

Prior to the 2008 general elections for instance, Mr. Freddie Blay was criticised by some CPP stalwarts for not campaigning for the CPP flagbearer, Papa Kwesi Nduom, and instead, endorsing the NPP's Presidential Candidate, Nana Addo Dankwa Akufo-Addo.

Mr Blay convened the National Executive Committee meeting that unanimously upheld a recommendation by the party's disciplinary committee to indefinitely suspend Mr Afoko for allegedly working against the NPP's interest.