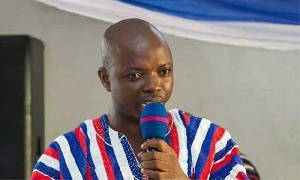 Mon, 4 Mar 2019 Source: Daniel Kaku
Brong Ahafo Regional First Vice Chairman of the ruling National Patriotic Party (NPP), Kwame Baffoe popularly known as Abronye DC has challenged the NDC's National Communications Officer, Sammy Gyamfi to make available the original infamous Ofosu Ampofo tape if he (Gyamfi) claims the tape recording currently in circulation, believed to be the voice of his party Chairman, has been doctored.
Sammy Gyamfi is alleged to have stated rather emphatically portions of the audio has been altered and made impure.

"I can tell you that, 80% of the voice is fake," he is reported to have said, after accusing the ruling New Patriotic Party [NPP] of being the brains behind it.

But Kwame Baffoe wants him to produce the "undoctored" version of the viral tape; even if its the 20% original form.

On the recording, a voice believed to be Mr. Ampofo's is heard urging people to take the Chairperson of the Electoral Commission, Mrs Jean Adukwei Mensa to the 'cleaners'.

"As for the EC Chair, we must wage a relentless war on this EC chair. Me, she doesn't want to see my face...," Ofosu-Ampofo allegedly said at the meeting which took place after the Ayawaso by-election.

The voice also endorsed verbal attacks on the National Peace Council Chairman, Most Rev. Prof. Emmanuel Asante.
The audio tape also suggests that abductions and kidnappings could be used to silence political opponents.

Reacting to the NDC National Communication Officer's assertions on Okay FM's "Ade Akye Abia" Morning Show, Abronye DC, as the NPP activist is popularly called, wondered how the NDC, in one breath claim the tape is "doctored", while Kwaku Boahen, a Deputy Communications Officer, who attended the said meeting has admitted that those are the words of the party's National Chairman.

"Sammy Gyamfi himself said 80% of the contents of the leaked tape are untruths, then if they (NDC) indeed held such a meeting and that 20% of a conversation captured on the tape is accurate and true. Well, they should make that available for Ghanaians to make their own assessment. I dare him to produce the 20% true contents on the leaked tape," he stated.

To him, the opposition party had planned and are indeed behind the some of the kidnappings and atrocious acts in the country, explaining why they heavily descended on former President Rawlings with insults when he said: "he hopes the recent killings, kidnapping and robbing don't have any political motivation".


Source: Daniel Kaku