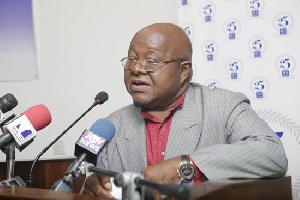 The Chairman of Constitutional and Legal Affairs Committee of the opposition New Patriotic Party (NPP) Prof. Aaron Mike Oquaye has accused the ruling National Democratic Congress (NDC) of infiltrating the ranks of the NPP.
He alleged that the NDC use its members to cause mayhem in the party instead of solving problems bedeviling Ghanaians.

Prof. Oquaye further accused the NDC of fomenting troubles in the NPP and later turn round to accuse the latter of being a violent party.

The former Member of Parliament (MP) for Dome Kwabenya further accused the NDC of masterminding the closure and ransacking of NPP's offices some months ago.

Speaking on Ultimate breakfast show hosted by Lantam Papanko, he added that it has always been the NDC's game plan to destroy NPP by painting it black to the electorates.

'It has been the NDC's game plan to infiltrate the party, and we will not allow it, let me tell you bluntly now, the NDC has done all they can to infiltrate, they have been part and parcel of closing our offices, policemen invading our offices, and all manner of confusion, this has leaked here, that has leaked there, all the confusion that you knew, and you know what let's just be frank with ourselves,' he claimed.

According to him, there are bootlickers within the NPP who leak classified information to NDC for reasons best known to them.
He wondered why President John Dramani Mahama will take keen interest in affairs of NPP when his own 'house' is in tatters.

Prof. Oquaye observed that sanity has prevailed since some members of the party were suspended.

'Since this suspension have you heard this kind of things going on, we love that peace and those people who for good reasons and good measure have turned themselves into NDC people and yet pretend to be NPP people, and create division, we know them, the NPP knows them, it's something that we will not allow, that is the reason why you see a whole president giving so much attention to NPP internal affairs.

Have they forgotten their own people, what did they do to Josiah Aryee their secretary general, what did they do to him during their congress, national women's organiser Frances Essiam, did they try her, they beat her to pulp, have they forgotten what they did to Obed Asamoah,' he asked.

The Chairman of Constitutional and Legal Affairs Committee of NPP charged the NDC government to account to Ghanaians money borrowed in their names.

He called on supporters of NPP not to allow themselves be deceived and tricked by the NDC, saying the NDC has nothing good to offer NPP.