Promise to replace textbooks with laptops: We're a rich country but we've poor-thinking leaders – KKD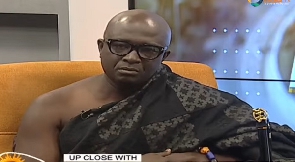 Veteran Ghanaian media personality, Kwasi Kyei Darkwah, alias KKD, has stated that the main reason Ghana is not making any strides in its development is the kind of leaders it has.
According to him, the motivation for most of the policies of the country's leaders is their enrichment at the expense of ordinary Ghanaians.

KKD, who made remarks while reacting to Vice President Dr Mahamudu Bawumia's promise to replace school textbooks with laptops, in a JoyNews interview monitored by GhanaWeb, suggested that this policy is only meant to steal from the nation.

"When you look at the math set deal, which people what to forget, a math set was GH¢7 but Ghanaians sat down and watched our brothers and sisters in government supply math sets to our children for something in the neighbourhood of GH¢80 or more.

"And now there is yet another promise that we are going replace textbooks with laptops. So, who is also going to cream the top of that? Let's stop this thing.
"We're are a rich nation led by a poor thinking leadership that is enriching themselves by making the people of Ghana poor," he said.

KKD also said that the motivation for the excessive borrowing of the Nana Addo Dankwa Akufo-Addo government was to enrich just a few people in the government.

Background:

The Ministry of Education, under the guidance of the government, is making preparations to introduce laptops as replacements for textbooks in Senior High Schools (SHS) nationwide.
During the 60th Anniversary celebration of the Hohoe Evangelical Presbyterian Senior High School, Vice President Dr Mahamudu Bawumia made the announcement, stating that the laptops would be equipped with textbooks and other teaching and learning materials for use during lessons.

Dr Bawumia emphasized that the initiative aims to prepare students to thrive in the global village.

He expressed the importance of investing in education as a means to propel the country forward in the right direction and build future nation-builders.

During his speech on Saturday, Dr Bawumia said, "The Minister for Education has also assured me that this year, we'll start the replacement of textbooks with laptops that have textbooks embedded in Senior High Schools."
This new initiative follows the government's launch of the One-teacher, One-laptop project on September 3, 2021. The project was initiated to provide SHS teachers with modern resources to enhance teaching and learning.

As of December 11, 2021, the Ghana Education Service reported that 80% of the laptops designated for teachers had already been distributed. The implementation of laptops as textbook replacements is expected to take place before the end of 2023.

You can also watch the latest episode of People & Places on GhanaWeb TV:




IB/OGB