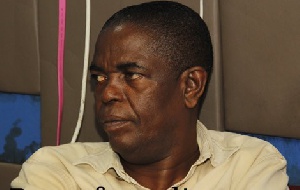 Thu, 17 Oct 2013 Source: Joy Online
Managing Editor of the Insight newspaper Kwesi Pratt doubts if government prosecutors will be able to establish criminal intent on the part of officials cited for corruption at the youth employment agency, Ghana Youth Employment and Entrepreneurial Development Agency (GYEEDA).
Speaking on Metro TV's Good Morning Ghana, Mr. Pratt questioned if "criminal prosecution can establish the facts and punish the mess at GYEEDA".

President John Dramani Mahama announced Tuesday that the Criminal Investigations Department (CID) of the Ghana Police Service has begun questioning officials allegedly involved in corrupt practices at GYEEDA.

Addressing a gathering of Muslims at the Independence Square, Accra, to mark Eid ul-Adha celebrations Tuesday, President John Mahama said "those who were indicted in the report; I am happy to say the CID has invited them and commenced investigations".

But Kwesi Pratt argues proving that monies were not used judiciously, is not enough if there is no monitoring systems in place as was the case at GYEEDA.

This, according to him, is termed in law as 'general deficiency'.
He said "the real mess is the absence of institutional framework which guarantee accountability.. the real problem at GYEEDA is not that people who went and stole money" but that it operated without legal framework.

He noted that GYEEDA, formerly the National Youth Employment Programme (NYEP) illegally received statutory funding although there was no legal framework in place that qualifies it for funding.

According to the Insight Newspaper boss, if a legal, accounting and monitoring framework were in place it could better define the nature of wrongdoing perpetuated at GYEEDA.

He gives an example in which the final report on GYEEDA expresses outrage that beneficiaries under the sanitation program were paid GH¢100 when GYEEDA had budgeted Gh¢500.

But according to an account by Zoomlion, there was proof of how the money was spent penny for penny in procuring equipment - tricycles, boots, apparel and others - for the workers.
In view of this "contentious" issue, establishing criminality would be difficult, Pratt observes.

But Nana Akomea, former Minister of Youth and Sports with oversight responsibility for GYEEDA disagrees with Kwesi Pratt.

He stated although there is no legal framework on GYEEDA, there are enough laws in the books that could still prosecute cited officials successfully if the political will exists.

The former minister questioned why an unqualified accountant could be appointed to GYEEDA when previously, the finance director and accountants at the ministry were the ones doing this work.

Further to this, Nana Akomea wonders why a private bank charging higher interest for processing the salaries of beneficiaries could be contracted when formerly it was a government owned bank which created and credited accounts of the beneficiaries.
He said with or without any legal framework, it goes against the laws for anyone to pay a Gh¢ 52,000 bribe to obtain approval of a module under GYEEDA.

Taking $2m pay from GYEEDA for work not done does not require any legal framework to be seen as wrong, illegal, corrupt and criminal, Nana suggested.

"The laws that we have today should be enough to protect the public purse", Nana Akomea said.
Source: Joy Online