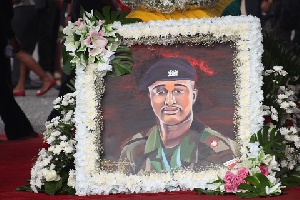 State prosecutors in the trial of the late Major Maxwell Adam Mahama murdered by residents of Denkyira-Boase in the Central Region have been urged to be extremely sensitive to the requirements of the law and go beyond gallery talk of investigating.
"Those investigating must be looking out for the ingredients of the charges. They should take their time and look for it one after the other. …they should not be swayed by public opinion" private legal practitioner, Ace Ankomah advised

"Determining somebody guilty is not about the reaction of the public. …it is not about what the person says or what the public feel. …it is about looking out for specific ingredients to secure a conviction" he pointed it out.

"Those in charge of the investigations must be extremely sensitive to the requirements of the law because we are a country of rule of law and that should be focus of our investigators"
"You do a swoop; you arrest people and do not do proper investigations. …you do not get all the links and you take somebody to court I am afraid a judge will aquit and another matter will come" Lawyer Ace Ankomah pointed out.

"The family will start writing petition so what happened. The government was not serious about it. ..Who paid bribe or somebody is a big man son and all other matters will come up to complicate the matter because the family is monitoring. "So I will plead as a lawyer those in charge of the investigations must be cautious because that has been the problem. The law taking it course and people disagreeing will happen. …and now saying that we do not believe in the law"

"So let the State Attorneys do the needful and I am sure if they approach it with that professionalism they will get someone" he concluded.